This benchmark and review is to show what performance differences you can expect when you try to run a SATA 3 SSD on older hardware that only supports SATA II (300 Mb/s) connections.
I was recently looking to purchase a SSD drive as an upgrade for my old socket 775 Core 2 Duo machine to keep it alive a bit longer. This meant purchasing a current SATA 3 drive and running it connected via the on-board SATA 2 connection.
When attempting to research whether I needed an add-on SATA 3 card I was unable to find any real world reviews of this type of upgrade, so this review is designed to fill this gap.
The Rig
| | |
| --- | --- |
| Mother Board: | Socket 775, Gigabyte EP45-DS3 |
| CPU: | Core 2 Duo E8400 3.0Ghz, running overclocked @ 4.0Ghz. |
| Memory: | 4GB (2x2GB) Corsair CM2X2048-8500C5C (1066Mhz) |
| Video: | MSi R6850 Storm II 1G OC (R6850 PM2DIGD5) |
| SSD: | Corsair Force GT 120GB, (1.3.3 firmware on SATA II in AHCI mode) |
| ATA Drive: | Segate Barracuda® 7200.12 1 TB |
| OS: | Windows 7 SP1 – 64 bit |
SSD Benchmark
The SSD drive in question is a Corsair Force GT 120GB.
Full specs and details can be found here on guru3D
This is connected via the on board SATA II Connection.
The theoretical throughput is 300Mb/s. The following is the results of AS SSD.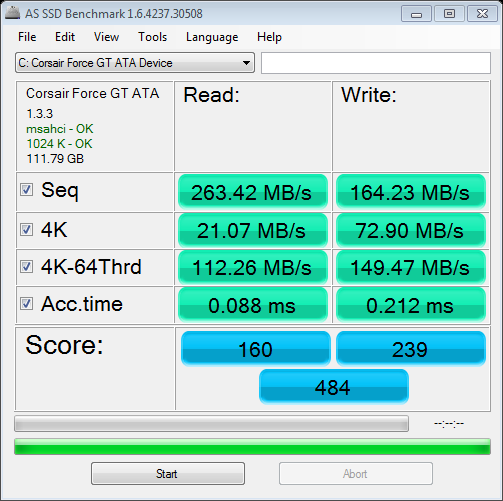 The overall score is comparable with the results from the guru 3d review with the obvious difference being the Sequential Read maxing out at 263Mb/s.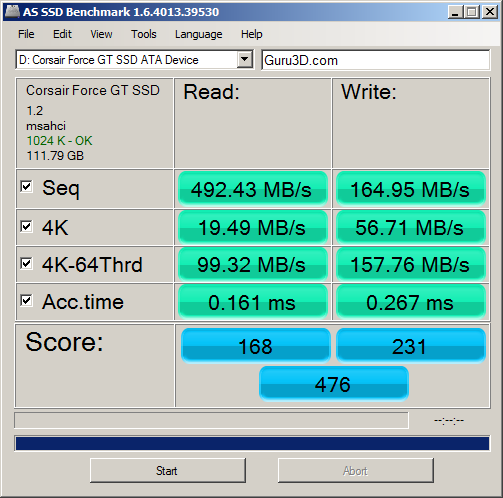 Here is the compression benchmark, so clearly the drive is not being pushed very hard..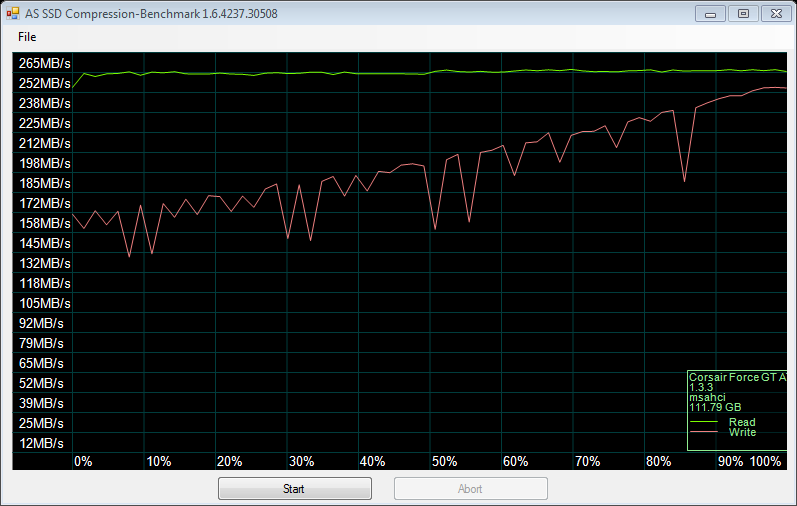 OS Benchmark
The machine is running Windows 7 – 64bit, plus all the services and software one would expect, including:
AVG Anitvirus
Catalyst control centre
HP Printer Software
Msi Afterburner
Core Temp
Network and All CPU meter gadgets
The Test
This benchmark recorded the total time to startup the PC on the 7200RPM 1TB drive vs the SSD. The benchmark recorded the time from when windows started loading after the POST screen, until a working desktop was available. This was identified as the time at which the Gadgets appeared on the desktop. This was split into 4 timing points:
time to login screen
time to login
time to see the desktop
time until the gadgets loaded.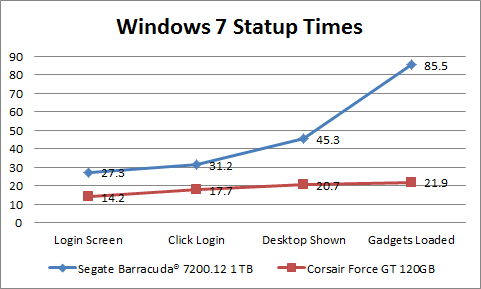 The windows startup time is now 4 times faster with the SSD drive, launching to a working desktop in less than 25 seconds, (including typing my password!)
Windows Experience Score
The windows experience went from…



to..



The slowest component is now my CPU.. may have to tweak that overclock 😉
Edit Caveat: Note you will have to factor in the fact that the SSD benchmark is on a clean install Windows 7 whilst the ATA Drive have been running for a while, but even so I have been using the SSD setup over the past few weeks since writing this review and start up is still very quick with only a few seconds between clicking login and being able to use the computer 🙂
Crysis
I timed the loading of the application and the loading of a new game.
With the following results.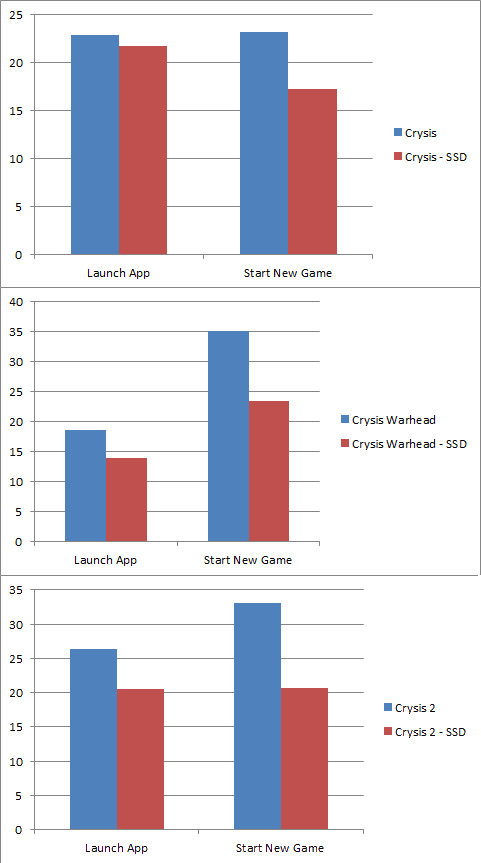 The load times were generally faster on the SSD drive and seem to have a larger performance gap as we moved from Crysis to Crysis 2.
Crysis Benchmarks
I ran both the Crysis and Crysis 2 benchmarks with no consistent pattern of improvement. The tests were within 2 fps of each other but in some cases the SSD was better and some worse. So it appears the Disk has no real impact on Crysis frame rates.
General Performance
The general performance of loading applications like Internet Explorer and Firefox, windows media centre was recorded. In most instances the load times on the SSD drive was around the 0.5 – 2.0 seconds, whilst load times on the hard drive were sometimes comparable but more often they were slower (Browsers took approx 4 seconds to load to Google homepage), but the hard drive was inconsistent in performance with load times as high as 14.5 seconds for IE being recorded.
PC Mark – Vantage (1.0.2.0)
To give some kind of industry benchmark for the entire PC experience I benchmarked the machine for overall performance using PC Mark, the results were
Hard Drive Score – 6313
SSD Score – 10683
This is a 70% improvement over the Hard drives score.
Conclusion
The general feal of the machine is much snappier with the SSD drive. Applications install really fast, open quickly and it is a nicer experience to use with no major delays when using the applications. Also I just realised my computer is also eerilly silent on start-up no more mechanical whirring and noises
I would say that it was worth the money even with just an old SATA II connection. Also this drive will be a useful addition to my Laptop at some point in the future ;-).
SATA 3 add-on Cards
The next stage of this benchmark test will be to get my hands on a SATA 3 card like the ASRock SATA 3 card or the ASUS U3S6 and see if these cards actually provide any performance benefit, stay tuned…
EDIT: 24-Feb-2012 – Asus U3S6 Review – Benchmark Sata 2 add on card >>>

EDIT- 15 march 2012
SATA 3 SSD with no AHCI?
Neville asked…
How much of an impact does AHCI have...
Can you do a quick AS SSD test with AHCI turned off??
So here it is.
Synthetic benchmarks
On AS SSD I did 3 runs on with both AHCI on and AHCI off (IDE)
With AHCI on I got the following results:
158 / 209 – 449
158 / 173 – 413
158 / 184 – 422
The best result is here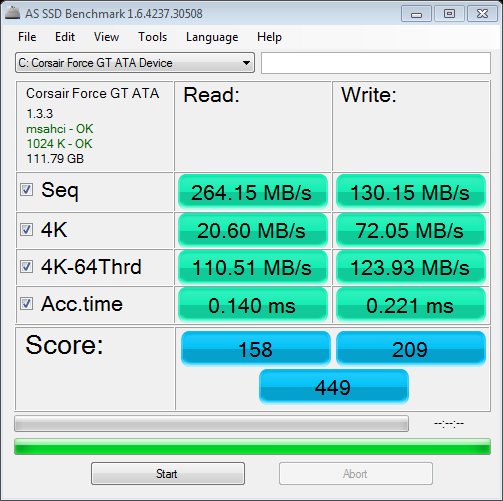 Note: similar to the later tests I did on the ASUS U3S6 you notice the read performance score is solid but the write performance is quite variable.
With AHCI off I got the following results:
66/158 – 261
68/159 – 266
68/171 – 277
The best result is here: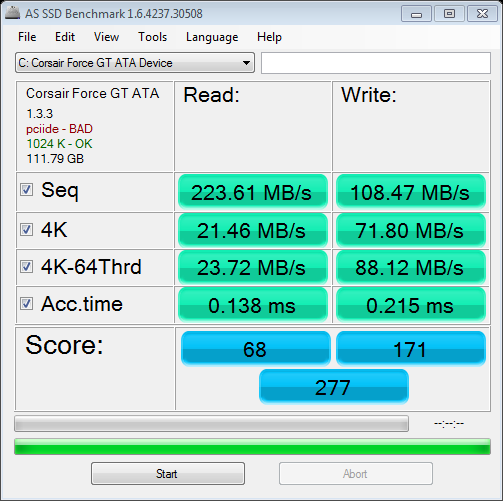 So the synthetic performance result is about 40% slower with AHCI off!!
Notice also that the 4K-64Thrd really drags the read score down, whilst all other values are comparable
Here is what Crystal Mark recorded..
Note again most figures are comparable except 4KQD32.
I did some digging and found this post
What is 4KQD32 and it is described as "4k 32 queue depth. There are 32 requests in line for 4k of data".
If you read further they suggested this is an un-realistic test for real world usage as the disk queue for windows 7 is between 1-3 normally, (all of which backs up my next statements 😉 …)
Real world performance
But again these are only synthetic benchmark figures. What did this mean to the general performance of the PC?
Windows Experience I re-did the windows experience score and it was identical in all of the measures.
Windows Start Up I averaged around 22.5 seconds for the boot time using the same approach to measuring startup time.
General Feel The system seemed still quite fast to load apps and not dis-similar to running with AHCI on.
Crysis I re-ran the Crysis Benchmarks and found that the performance was within +/- 1 fps with AHCI on or off.
So if you look solely at the synthetic benchmark things don't look so good, (AS SSD even says its BAD – checkout the screenshot) but in the real world you will notice a significant improvement in boot times, and general speed of your PC.
As an example I have a work laptop that is a Lenovo ThinkPad with a Centrino processor and it has always performed really well and I couldn't work out why it was so good with such a small CPU in it. Only when I did some poking around when writing this post did I find it runs a 60GB SSD.. and it all started to make sense.