I just have to say. I love SSD's.
I have a HP Pavilion dv6 3030tx. Its not the fastest machine.
It is a 1st generation Intel Core i5 540M, with 4GB of memory.
If you read the posts on this site I recently upgraded to 8GB of memory.
This made little performance difference.
I rebuilt my PC with Windows 8 and upgraded to a Samsung 830 256GB SSD.
To give you an indication of a general performance improvement, read on.
Performance Benchmark Prior to SSD upgrade
I am a software developer and I do all of my development in Virtual Machines.
My current VM platform of choice is Virtual Box.
On battery on my daily bus trip I do the following:
1. Login to Windows.
2. Start Virtual Machine – Windows Server 2012
3. Login to Windows VM
4. Start Visual Studio 2012
5. Load solution I am working on.
All the above tasks generally take approx 12 – 15 minutes before I am at a working visual studio solution in my VM.
As an example it was taking approx 1.5 minutes to reach my desktop alone.
The windows performance score was 5.9 with the lowest score being the Hard disk.
Performance Benchmark after windows 8 and SSD upgrade
All of the above tasks can now be completed in under 2 minutes, that's about a 600% improvement.
The windows 8 boot time is unbelievable. I can be at a working desktop in about 15 seconds, including typing my password. Did I also mention shutdown is about 5 seconds.
The other noticeable benefit is the improvement in battery life.
On my daily 2 hour commute to and from work, I would generally be running below 10% battery and being asked to find power or shut down.
Today on a full trip and working the entire time, I still had 40% battery life left.
The windows experience score is now 6.6 with the disk now 7.6 up from 5.9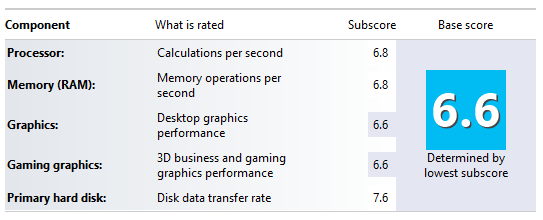 Some of this start up improvement may be coming from the Windows 8 upgrade (don't get me started on metro…), but its still awesome, I've been restarting just to see how fast it is.
Don't throw out your old PC, just upgrade to a SSD, you will not be disappointed.
FYI this is what AS SSD showed about my drive in the laptop.